RELEASE DATE:  April 18, 2018!
PUblisher: Second story Press
illustrator: Josee Bisaillon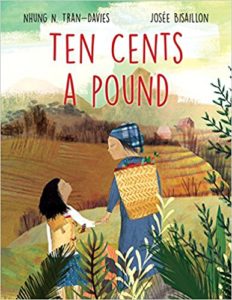 "Ten cents a pound is what I'll earn,
To buy these books and set you free."
A young girl is torn by her desire to stay home with her family and the familiarity of their village, and her desire to go to school and discover the world beyond the mountains that surround them. Every time the girl insists that she will stay, her mother repeats that she must go—that there is more to life than labor in the coffee fields. Their loving exchange reveals the struggles and sacrifices that they will both have to make for the sake of the young girl's future. The sweet, simple text captures a mother's love and her wish for a life of opportunity for her daughter.
You can pre-order a copy today!
https://secondstorypress.ca/kids/ten-cents-a-pound 
Advance Reviews:
http://www.cbc.ca/books/12-canadian-picture-books-to-look-forward-to-in-the-first-half-of-2018-1.4512236
"In alternating spreads containing lyrical verses, a young girl and her mother consider the child leaving home to attend school. Tran-Davies' succinct and elegant text conveys heartfelt emotions…. This celebration of the mother-child bond is sure to spark discussions of childhood poverty." – Booklist
"A compelling tale of love and sacrifice told through a series of rhythmic verses and poignant observations. In a story at turns both whimsical, with beautiful fluttering butterflies and flowers, and gritty, with stooped backs, worn hands, and tired faces, two generations of women dream of a better tomorrow." – Foreword Reviews
http://www.librarybound.com/collection-development-tools/staff-favourites/helen/110-helen-aug-2020
http://www.umanitoba.ca/cm/vol24/no18/tencentsapound.html
http://gallopinto2.blogspot.ca/2017/12/review-ten-cents-pound.html
https://www.theproblemsite.com/book-scrounger/2017/10/ten-cents-a-pound
http://www.missjennysclassroom.com/2017/11/ten-cents-pound-book-review.html
http://babybookworms.blogspot.ca/2017/11/ten-cents-pound-bookwrap.html
http://reviewingroom.blogspot.ca/2018/02/ten-cents-pound-by-nhung-n-tran-davies.html
---
I wrote the story after having visited a boarding school for girls in Dak Glei, Vietnam. I was moved by the struggles that children in developing countries face just to go to school. I not only wanted to tell their story to increase awareness in our own children of how things are in different parts of our world, but also to show the love between a mother and her child.